Indigenous Web Innovators
At Ursa Creative, we specialize in crafting visually stunning and highly functional websites that empower Indigenous organizations to thrive in the digital realm. Our website design and development services combine creativity, technical expertise, and a deep understanding of Indigenous values to create captivating online experiences that engage audiences and drive results.
As an Indigenous-owned and operated company, we are passionate about showcasing the unique stories, cultures, and aspirations of Indigenous communities through captivating and culturally sensitive web design. We recognize that a well-designed website serves as a powerful tool to connect with stakeholders, raise awareness, and drive positive change.
Our team of talented web designers, developers, and content strategists collaborates closely with our clients to understand their goals, target audience, and brand identity. We then translate these insights into visually stunning websites that leave a lasting impression while aligning with your organization's values and objectives.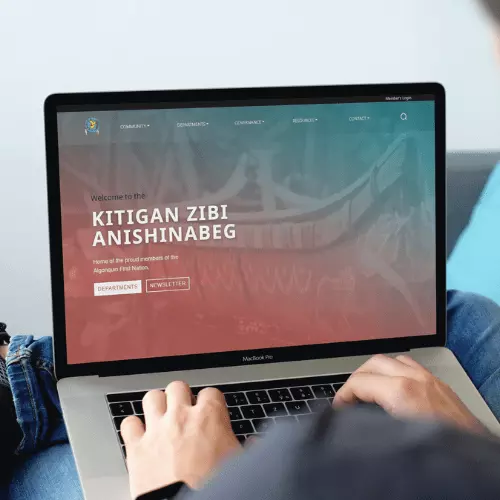 Captivating Digital Experiences for Indigenous Organizations
Our comprehensive suite of website design and development services includes:
Custom Web Design:
We create bespoke designs that reflect the essence of your organization and captivate visitors. Our talented designers blend stunning visuals, intuitive navigation, and engaging content to create unique online experiences that resonate with your target audience.
Responsive Web Development:
We develop websites that are fully responsive and optimized for seamless viewing across all devices, including desktops, tablets, and mobile devices. By prioritizing mobile-first design, we ensure that your website delivers a flawless user experience regardless of the screen size.
Content Management Systems (CMS):
We integrate user-friendly content management systems such as WordPress or custom-built solutions, allowing you to easily update and manage your website's content without technical expertise. Take control of your online presence and keep your website fresh and relevant.
E-Commerce Solutions:
We design and develop secure and user-friendly e-commerce websites that enable Indigenous organizations to showcase and sell products or services online. From product catalogs to secure payment gateways, we create seamless and engaging online shopping experiences.
Search Engine Optimization (SEO):
We optimize your website to ensure it ranks high on search engine results, driving organic traffic and increasing visibility. By implementing best practices in on-page and off-page optimization, we help your website attract the right audience and achieve your digital marketing objectives.
Accessibility Compliance:
We adhere to web accessibility standards, ensuring your site is inclusive and accessible to all users, including those with disabilities. We prioritize accessibility features such as alt text, keyboard navigation, and color contrast to ensure compliance with accessibility guidelines.
Ongoing Support and Maintenance:
Our commitment to your website's success extends beyond its launch. We provide reliable ongoing support and maintenance services to ensure your website remains secure, up-to-date, and optimized for peak performance. We are here to assist you with technical issues, updates, and enhancements.
Partner with Ursa Creative to unlock the full potential of your online presence. Let us create a visually stunning, user-friendly website that captivates your audience, drives engagement, and supports your mission of positive change. Contact us today to discuss your website design and development needs.
Ready to begin your digital project?
Kedji Màdji Ànimitàgozing